Christie & Co European Hotel Market Webinar
Christie & Co's European hotel experts were delighted to host their first webinar last week, to review the state of the European Hotel Market.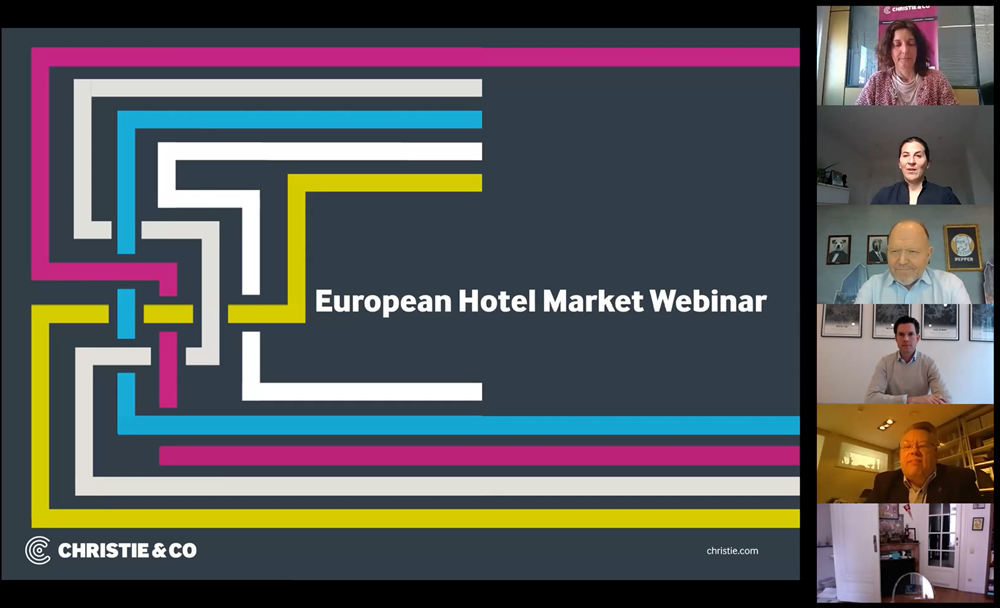 Joined by special guest Anders Nissen, CEO of Pandox, the panel featured Christie & Co's International Managing Directors from the countries in which we operate, who shared their live input on what is happening on the ground and compared views for each topic.
The full panel included:
Carine Bonnejean - Managing Director UK Hotels - Christie & Co, Lukas Hochedlinger - Managing Director Central and Northern Europe - Christie & Co, Inmaculada Ranera - Managing Director Spain and Portugal - Christie & Co, Philippe Bijaoui - Managing Director France - Christie & Co, Kimmo Virtanen - Director Scandinavia, Russia and the Baltic States - Christie & Co.
The discussion focussed on recent trends and activity across the international hotel market over the past 12 months, providing an outlook and key insights for the investment appetite, market sentiment, pricing and funding, as well as upcoming opportunities in 2021.
The panel noted the ongoing adverse effects COVID-19 has inflicted on the hotel sector throughout 2020 are undeniable. Forced closures of hotels and bans to both inbound and outbound travel across the UK and wider global market have led to some of the most severe declines in occupancy rates and RevPAR performance ever recorded, particularly markets which rely heavily on international visitors.
As a result, hotel investment deal volumes declined dramatically in 2020 by about two thirds compared with 2019 yet by year-end there were still c. EUR 9 billion of deals closed.
Many operators and owners have been financially challenged but government relief measures across Europe have allowed many businesses to be on life support.
As we enter 2021, with vaccines being rolled out across Europe, cautious optimism is filtering through and we can start preparing for the recovery ahead, however the panel agreed, the situation remains unpredictable and fast-changing, requiring hotel operators to remain resilient and adaptable.
Encouragingly, there is an enormous amount of capital waiting for opportunities to arise and there has been a notable uptick in activity since the beginning of the year, as investors continue to look at opportunities with a long-term view.
Looking ahead, Anders Nissen suggests, "It's important not to look at the market as a whole but to break it down and consider that the various segments are going to experience a different rate of recovery. This year the focus will really be on domestic demand due to ongoing international travel restrictions. Regional domestic markets are going to be bigger than ever and will see some recovery sooner than the likes of city-centres, which rely on international visitors. There's an opportunity here in the lead up to summer for owners and operators to look at their business model and think about how to reinvent themselves to 'woo' domestic travellers and capture this pent-up demand."
You can view the full webinar below.   
Christie & Co European Hotel Market Webinar - March 2021 from Christie & Co on Vimeo.