Christie & Co appointed to advise on Dossen's European expansion
Specialist business property adviser Christie & Co is delighted to announce that it has been appointed by China's Dossen Hospitality Group to support the Group's planned European market expansion.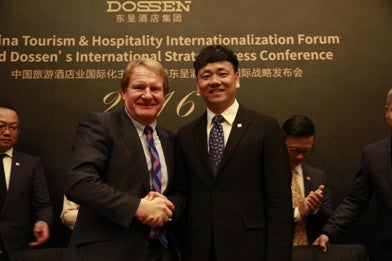 In a ceremony held at the ITB ASIA 2016 expo in Singapore, Christie & Co's Global Managing Director, Chris Day, signed a contract with Dossen's President, Mr Cheng Xin Hua to provide analysis of the European hotel market and to advise on the strategic options available to Dossen in its bid to become one of China's top five hotel groups.
Chris Day, Global Managing Director at Christie & Co said, "We are delighted to have been appointed by Dossen to support them in their expansion plans. The Group is taking a strategic view on expanding their offering in Europe, and they are looking to learn from the history and experience of existing European operators.
"We shall be supporting them through the expertise of our international hotels and consultancy teams, and providing advice and analysis across the Group's planned target markets."
Christie & Co's Head of Asia, Joanne Jia added, "This contract follows Christie & Co's recent appointment as a long-term professional consultant to the Chinese Hotel Investors Association.
"In China, because of increased competition, many local hotel brands are looking to globalise, and we will be working with Dossen to help  them to analyse and critique their current situation alongside giving them business intelligence on the European hotel market, and making suggestions to allow them to formulate and develop new strategies."