Christie & Co gibt Debüt auf Intergastra Stuttgart
Stuttgart. Im Rahmen des Forums "Fokus Hotel" nahm Christie & Co in diesem Jahr erstmals auf der Fachmesse Intergastra teil, die vom 20. bis 24.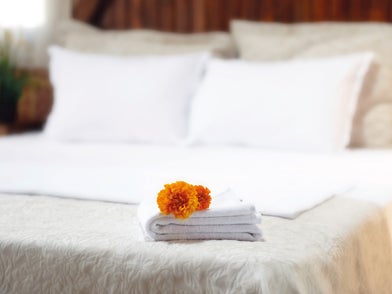 Februar in Stuttgart stattfand. Der dritte Tag des Forums "Fokus Hotel" beschäftigte sich mit Themen rund um Immobilien, Bauen und Nachhaltigkeit und lockte damit rund 350 Besucher an. Dabei beleuchtete Christie & Co unter anderem den Stuttgarter Hotelmarkt und diskutierte im Podium über junge Hotelmarken.

Unter dem Motto "Hotspot Immobilieninvestment" referierte Lorina Callenberg, Consultant Investment & Letting bei Christie & Co, über den Stuttgarter Hotelmarkt. Dieser habe sich über die letzten Jahre hinweg sehr positiv entwickelt und es sei zu erwarten, dass dieser Trend auch weiterhin anhalten werde. Laut Christie & Co konnte die badenwürttembergische Landeshauptstadt 2015 im Vergleich zu 2011 einen RevPAR-Anstieg von circa 18 Prozent verzeichnen und erzielte einen durchschnittlichen Netto-Zimmerpreis von rund 101 Euro. "Das entspricht einer Steigerung von circa 4,6 Prozent im Vergleich zum Vorjahr", erklärt Callenberg. "Dass Stuttgart ein attraktiver Hotelmarkt ist, spiegelt sich auch in der Anzahl der Hotels wider, welche sich aktuell in Bau oder Planung befinden. Bis Ende 2017 werden rund 1.200 neue Zimmer erwartet", so die Expertin weiter. Zudem scheine Stuttgart prädestiniert für Lifestyle-Marken zu sein. Als jüngste Beispiele nennt sie das Jaz in the City im Mischkomplex Cloud No 7 – das erste Hotel dieser Marke in Deutschland – sowie das Moxy Hotel Stuttgart Flughafen. Doch auch die Nachfrageentwicklung sei in Stuttgart positiv, wie Callenberg betont. Diese werde vor allem vom Messezyklus bestimmt, aber auch das Volksfest Cannstatter Wasen habe eine steigende Relevanz.

Reges Interesse bei den Besuchern des Forums weckte auch die Expertenrunde zum Thema "Junge Hotelmarken suchen Standorte, Standorte suchen junge Hotelmarken", welche von Maria Pütz-Willems, Chefredakteurin und Gründerin des Onlinemagazins Hospitality Inside, moderiert wurde. Neben Kay Strobl, Head of Advisory & Valuation Services Germany bei Christie & Co, diskutierten Horst Schaffer, Aufsichtsratsvorsitzender bei der Motel One Group, Dr.

Markus Doleschal, Head of Tenant Relationship Management Hotel, sowie Michael Patrick Struck, CEO und Gründer der Ruby Hotel & Resorts GmbH, über Trends, Angebote, Standort und Lage. Dabei wurde unter anderem über die Definition von jungen Hotelmarken gesprochen, aber auch, was die Top-Standorte für solche Marken sein können und wie sich diese im Markt etablieren können. "Junge Hotelmarken können durch Persönlichkeit sowie ein unkonventionelles und zugleich kosteneffizientes Konzept punkten. Die Zielgruppensegmentierung erfolgt dabei nicht mehr nach den klassischen soziodemografischen Merkmalen, sondern vielmehr nach Lifestyle und den individuellen Gästebedürfnissen. Dabei beweist sich gerade in der Krise, ob ein Konzept funktioniert oder sogar davon profitiert, wie zum Beispiel Motel One ", meint Strobl.

Zudem ist sie der Ansicht, dass junge Hotelmarken auch selbst Standorte kreieren. "Die Lage wird durch das Hotel zum Hotspot entwickelt, Standorte werden aufgewertet und 'eventisiert'. Dies ist beispielsweise den 25 hours Hotels oder dem Roomer's in Frankfurt sehr gut gelungen. Anders als früher ist der Standort nicht mehr zwingend an Verkehrsknotenpunkte gebunden, zumal die junge Generation ohnehin über den ÖPNV und Car-Sharing so mobil ist, sodass die Mikrostandort-Betrachtung flexibler wird. Der 'Community-Faktor' steht hier mittlerweile im Vordergrund", so Strobl. Grundsätzlich beobachtet sie, dass Hotels bei Investoren immer beliebter werden – aus gutem Grund: "Die früher für Hotelimmobilien angesetzte und im Vergleich zu anderen Assetklassen sehr hohe Risikoprämie ist überholt. Hotels haben sich als interessante Alternative etabliert, die im derzeitigen Niedrigzinsumfeld immer mehr an Attraktivität gewinnt", konstatiert Strobl.