Hotel investment market Austria: Recovery noticeable despite new challenges
Vienna. After an initially good start to 2022, the ongoing war in Ukraine and its consequences caused renewed unrest on the Austrian hotel investment market. Which buyer group was nevertheless active, and what domestic banks say about the current financing landscape, you can read in the latest transaction market report from hotel real estate specialist Christie & Co.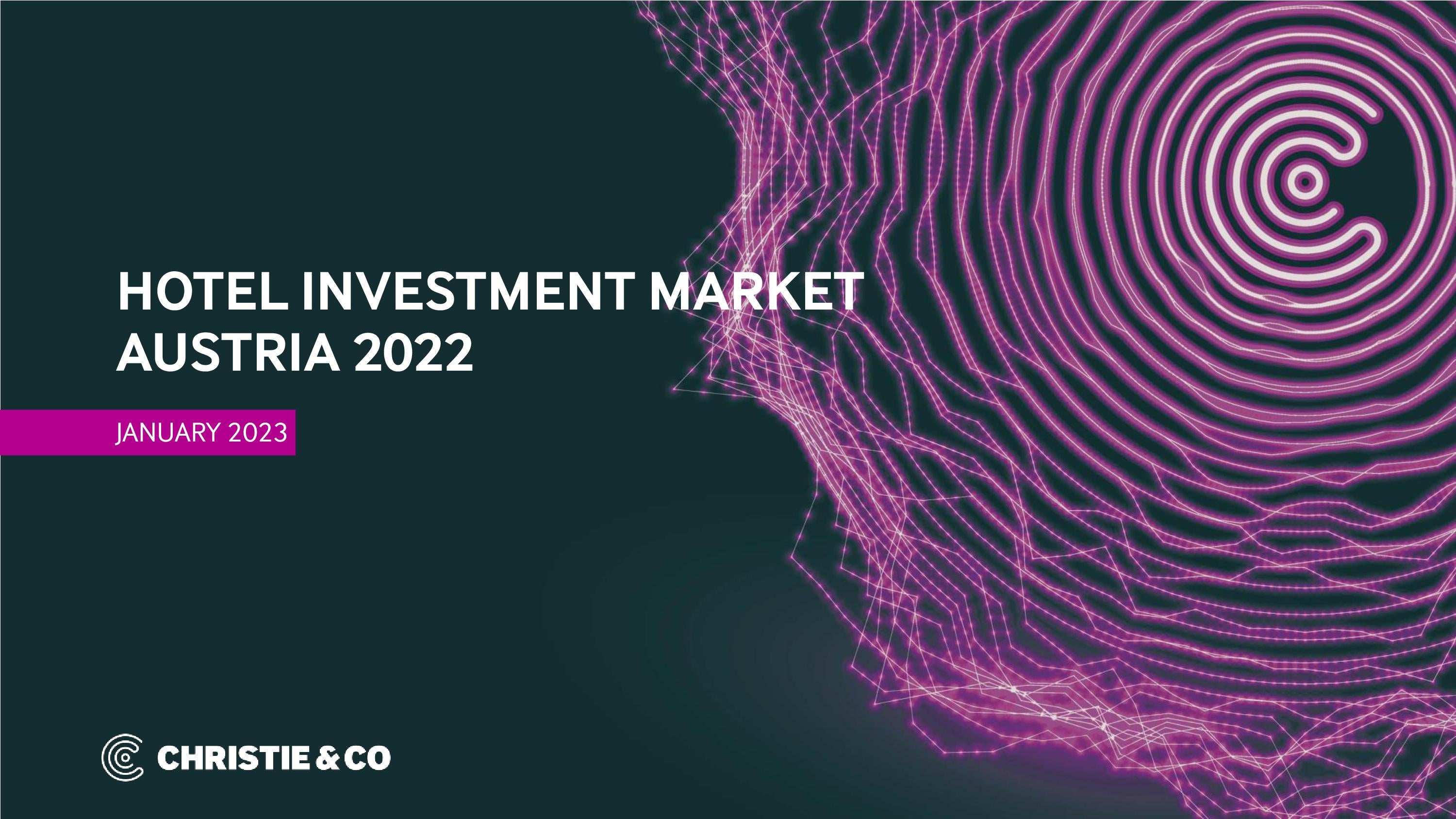 While at the beginning of 2022 it was perhaps still assumed that the effects of the pandemic would slowly fade into the background, the Ukraine war and its consequences left clear traces on the domestic investment market. Rising energy prices, staff shortages and the massively changing interest rate landscape resulted in significantly fewer hotel transactions in 2022 than would have been predicted at the end of 2021.
"With a transaction volume of EUR 230 million, the first half of 2022 started promisingly. However, the investment market was increasingly slowed down in the second half of the year. Nevertheless, the market in Austria was able to record some notable transactions last year, which ultimately resulted in a transaction volume of well over EUR 400 million, a significant increase compared to previous years," summarizes Simon Kronberger, Director Austria & CEE at Christie & Co.
Above all, the domestic city hotel industry returned to the focus of investors for the first time since the beginning of the pandemic. Among others, the MEININGER Hotel Wien Sissi, the Austria Trend Hotel Savoyen or the Bassena Hotel Wien Donaustadt changed owners. But also the leisure hotel industry, which has been increasingly in demand in recent years, continues to be popular among investors. With the LOISIUM Wine & Spa Hotel Südsteiermark, the Grand Prix Hotel in Spielberg and the thermal spa hotel "Das Sonnreich", among others, several transactions were recorded. Christie & Co was also able to accompany various transactions last year.
In addition to a shift in investor focus, there has also been a change in the types of investors themselves compared to recent years. On the one hand, it can be noted that after two years of pandemic-related restraint, international investors, especially from Germany and Israel, are now again clearly more active on the Austrian investment market. Nevertheless, Austrian investors remained the most active group of buyers with a share of over 40%. On the other hand, it could be seen that institutional investors and high net worth individuals have also returned as buyers, and thus after two years of restraint, hotel real estate has moved back into focus as an investment product. It is exciting that larger leisure hotels were also purchased by institutional investors for the first time.
Probably the most discussed topic, both last year and this year, is the financing environment, which has been changing steadily for months. Even during the pandemic years, banks were increasingly cautious when it came to the hotel asset class, with rising inflation and the accompanying increase in key interest rates putting additional pressure on the financing environment. Most banks are currently unable to make a generally valid statement on their willingness to finance. For many, the individual case decides whether and on what terms financing for hotel investments is granted. What is clear, however, is that internal review processes have been tightened, and operator (concepts) are also being scrutinized more closely. This situation will therefore accompany hotel operators as well as owners and investors for some time to come.
"Even though the year 2022 held some challenges in store for the hotel real estate industry, clear recovery tendencies can be seen on the domestic investment market. Tourist demand from foreign guests in Austria was at times even at pre-crisis levels, and international investors were also significantly more active again. However, it remains to be seen what long-term impact the financing issue will have," comments Melanie Waraschitz, Senior Consultant Investment & Letting.
"Hotel real estate remains a popular asset class and continues to generate strong interest among real estate investors. In particular, the return of the city hotel sector to the focus of investors shows us that the market is recovering, albeit at a somewhat slower pace than initially expected due to circumstances," adds Simon Kronberger, Director Austria & CEE.
Christie & Co currently markets over 20 hotels in Austria and more than 300 across Europe on behalf of owners and offers transaction support as well as comprehensive advisory services around hotel real estate.
You can download the entire report free of charge here.