Hotel Market Comparison Dresden vs. Leipzig: Rivalry in Saxony
Hot on the heels of Christie & Co's report covering the hotel markets of Cologne and Dusseldorf, the hotel property experts just released their latest snapshot of another two rivalling German cities – this time taking a closer look at Saxony's key hotel markets, Dresden and Leipzig. Not only is Saxony considered Germany's Gate to Eastern Europe – strong economic growth, an increase in tourism demand as well as numerous trade fairs and congresses have brought its largest cities into the investors' focus.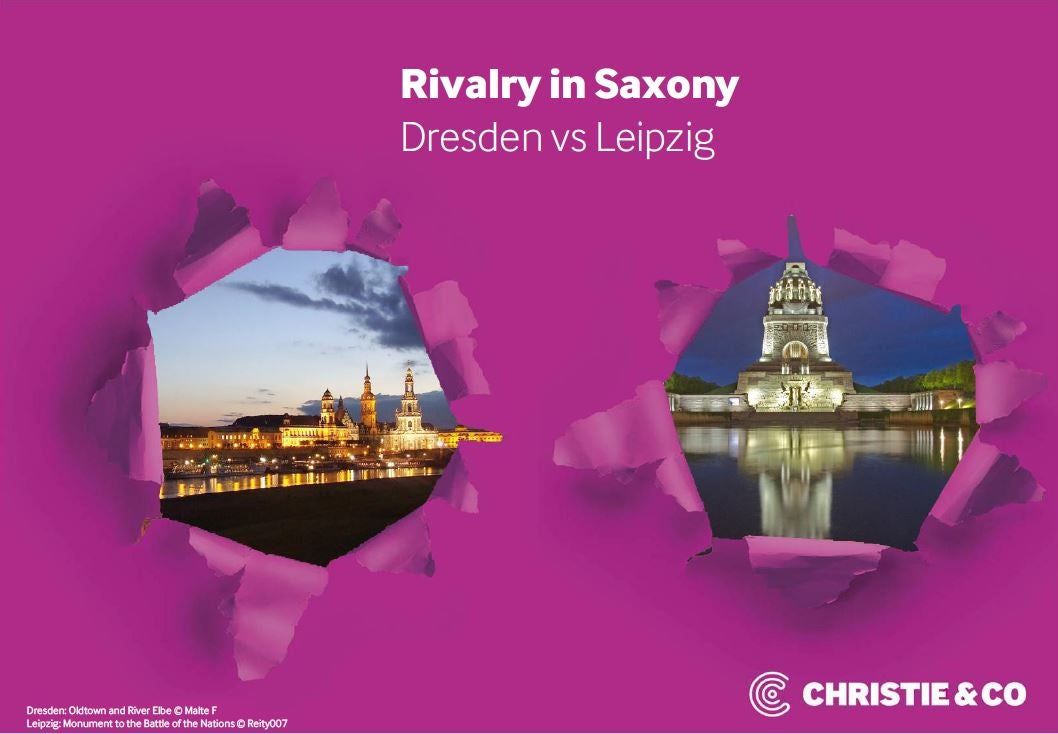 Kay Constanze Strobl, Head of Advisory & Valuation Services Germany at Christie & Co and author of the report, comments: "Even though Leipzig is currently on the rise, Dresden continues to be stronger in overall economic terms." While Leipzig has by now outnumbered Saxony's capital city regarding the number of inhabitants, Dresden records a lower unemployment rate and higher per capita income.
 
Dresden leads the way in hotel supply, Leipzig is up for a challenge
With a total number of 20,048 beds in 108 establishments compared to 12,766 beds in 68 establishments, Dresden is ahead also in terms of hotel supply. Patrik Hug, Consultant Advisory & Valuation at Christie & Co and co-author of the report, explains: "Over the past five years, the number of hotels in Dresden was slightly decreasing, while the number of beds has gone up. And in Leipzig, too, the number of beds has increased much more than the number of hotel establishments. This development shows a trend towards larger hotels."
 
With its growth in supply, Leipzig is currently challenging Saxony's capital. This year, several new hotels have entered the market, another eleven are under construction or in the stage of planning and are set to expand the offer by 1,983 rooms in total. For comparison: In Dresden only six hotels with 969 rooms will be added to the supply.
 
Opportunities for economy hotels – Accor number one among branded hotels
According to DEHOGA, in Dresden currently 46 percent, and in Leipzig 51 percent, of the hotels are officially classified according to star categories. In both cities, the largest part of them are ranked as 3- and 4-star hotels. While in Dresden more hotels can be found in the upscale segment than in Leipzig, the number of establishments in the economy segment is identical in both cities, with only three hotels each. Ms. Strobl says: "There is definitely potential here, and obviously this has been recognised already, as all new hotel projects rank within the economy category".
 
In total, close to 75 per cent of hotels in both Saxon metropolises belong to branded hotel chains. With a market share of 21 per cent in Dresden Accor leads the ranking list of hotel chains, number two is IHG at eight per cent. The leader in Leipzig, by contrast, is Marriott & Starwood at 13 per cent, followed by Accor at 11 per cent. Mr Hug explains: "The mix of the largest branded hotels is relatively diverse in the two cities, which is due to the fact that Dresden has a different structure of guests with different motivation to travel than Leipzig."
 
However, compared to some West German hotel markets, both Saxon cities perform rather poorly in the ranking of hotels with the highest turnover that was conducted by trade magazine Allgemeine Hotel- und Gastronomiezeitung: Only four hotels in Dresden and one in Leipzig have made it to the ranking list. Ms. Strobl comments: "This low share is mainly due to the lower room rates in the new Laender". Nevertheless, The Westin, a brand of Starwood, is among the winners in both cities.
 
Increasing demand in both cities
Both in Dresden and in Leipzig touristic demand for hotels and bed and breakfast hotels has increased over the past five years. Arrivals in Dresden showed stronger growth than overnight stays, suggesting that the average length of stays has shortened, while in Leipzig the opposite is true. Ms Strobl explains: "Overall, guests still spend more time in Dresden than in Leipzig. But the interest in Leipzig is rising constantly." In absolute figures, however, Dresden remained the number one in 2015, recording 1.9 million arrivals – vs. 1.4 million in Leipzig – as well as 3.9 million overnight stays – vs. 2.5 million in Leipzig. Altogether, the largest part of demand is domestic – 80 per cent in Dresden and 85 per cent in Leipzig. In both cities, the United States is the top foreign feeder market, Switzerland ranks second in Dresden, and the United Kingdom in Leipzig.
 
Performance in Dresden 2016 tends to be negative
According to STR, all key performance indicators both for Dresden and Leipzig were pointing upwards between 2011 and 2015. However, the forecasts for 2016 look different. While in 2015 Dresden posted an increase of ADR and RevPAR, despite a slight decline of occupancy rates, all key performance indicators collapsed in July 2016. Mr. Hug points out: "Dresden is currently suffering from a strong loss of image caused by the demonstrations of the anti-islamic Pegida movement. On Mondays, the day of the demonstration, hotel operators meanwhile record a decline of bookings of 50 per cent. Additionally, the new bed tax confronts hotel operators with severe challenges."

Conversely, Leipzig's prospects for the future are more promising. While its key performance indicators were still lagging behind Saxony's capital in 2011, Leipzig outperformed Dresden in 2015. Ms Trobl concludes: "Based on August 2016 figures and increased demand from the business and MICE segment, Leipzig is set to deliver an excellent hotel market performance in the future."