Sanotel Bad Gastein & Residenz is up for Sale following Insolvency
Christie & Co is looking for a visionary investor for an opportunity with upside potential in Austrian spa and ski destination.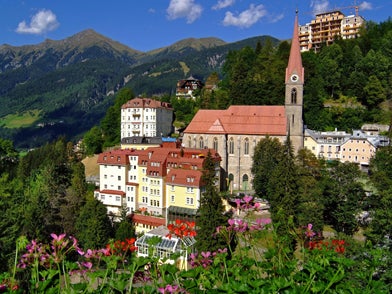 The Sanotel Bad Gastein & Residenz, one of the leading establishments in the world-famous spa and ski destination Bad Gastein, is up for sale following insolvency. Christie & Co, Europe's leading broker and consultant for hotel properties, is now looking for a visionary investor. The proposed transaction encompasses the operator-free hotel property with facilities and plot of land.
 
The Sanotel Bad Gastein & Residenz is located in the centre of Bad Gastein right by the Gastein waterfall. It consists of two separate buildings located in close proximity to each other. The Residenz hotel, which was built about 100 years ago and brought back into business following a complete renovation in 1989, is run as an annexe and accommodation facility of the Sanotel. The main building was completed in 1980 and extensively renovated and extended between 1990 and 1995. The last renovation took place ten years ago, when the spa and wellness complex was redesigned. Overall, the hotel offers 73 bedrooms and apartments, restaurants, conference facilities, as well as a spa and wellness complex with extensive health and beauty facilities. However, as announced in the middle of last year, the business had to file for insolvency.
 
"Once the subject of insolvency is raised, panic often breaks out among those involved. But it can also be an opportunity for a new beginning," explains Lukas Hochedlinger, Managing Director Germany, Austria & CEE at Christie & Co. However, if the hotel is deemed not to be worth renovating, a disposal is the best route to success. But even in this case Hochedlinger sees opportunities rather than risks: "In the event of insolvency, a hotel operation is thoroughly examined from top to bottom. This often reveals potential that did not even seem visible before. The Sanotel is a good example of this," he says. The concept of the hotel is geared towards nature lovers and sports enthusiasts, who pursue diverse nature-related activities during their usually multi-day stays and can relax at the spa. "The new owner also has the option of taking advantage of a doctor's office with five medical treatment rooms.This could be used for extensive health services focusing on rehabilitation and recovery, so as to increase the added value of the hotel. And that's just one of many possibilities," he explains. Basically, he advises local hoteliers to create a concept that doesn't just appeal to winter sports athletes in order to also generate revenue in the off-season. Bad Gastein is especially famous as a winter sports destination, thanks to its unique landscape and the ski resort. The ideal altitude climate, the fresh mountain air, and the variety of spa facilities make Bad Gastein a popular destination for spa guests. In addition, the area offers numerous biking and hiking trails, which attract nature lovers and outdoor sports enthusiasts in the summer as well," says Hochedlinger.
 
Total demand is on the rise in the State of Salzburg: In 2014, around 4.6 million arrivals and 15.3 million overnight stays were registered – an increase of around 13 percent in arrivals and about five percent in overnight stays compared to 2010. 2015 is also looking promising, with a significant increase in the first half of the year compared to the same period in 2014. Domestic guests predominate in the region, making up about 70 percent of visitors. The largest share of foreign guests, approximately 46 percent, comes from Germany. "This is a very positive outlook for Bad Gastein. You just need to know what to make of it," Hochedlinger concludes. Interested parties are requested to contact Christie & Co Austria GmbH in Vienna. According to Christie & Co, the transaction is free of commission for the buyer.